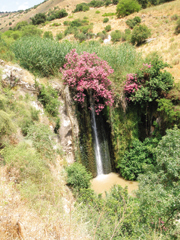 Route: A moderate hike along the slope of a riverbed. The trail is marked in blue.
Best Time: Winter and spring. Do not hike here in summer during the hot part of the day.
Start: 3 km southwest of the Afik Junction, alongside Route 98 between kilometer markers 21 and 22.
End: Where the river meets the upper border road.
How to Get There: Take the approach road to Kibbutz Meitzar, pass the kibbutz, turn right at the junction, and continue to some buildings used by the army. Turn right onto a road beside a short row of cypresses. The road is in poor condition, but navigable in any vehicle. It leads down to a parking area beside Nahal Meitzar.
Length of Hike: 3 kilometers.
Map: Golan & Hermon Trail Map 1.
What to Bring: Comfortable hiking shoes, water, and a hat.
Be sure to arrange for a car to pick you up at the end of the trail.